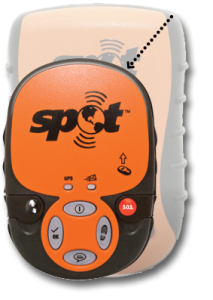 Next to ADS-B, GliderTracking also supports SPOT Trackers.
A SPOT tracker is a very small device that sends it's location 1 time every 10 minutes, through a satellite connection. That's why a SPOT tracker has worldwide coverage.
With the gliding sport, SPOT trackers are used a lot, for tracking and safety reasons. Do you own a SPOT tracker? We can add and show your SPOT tracker on GliderTracking.

How do I get my SPOT position on GliderTracking?
We need the following data to add your SPOT tracker to our live tracking page:
SPOT Share Code
(Optional) Glider type, callsign, glider registration and name of the pilot
Send us these data through our contact form.
How do I get my SPOT Share Code?
Log in on https://login.findmespot.com
Click on the tab "Share"
Click on "Edit/Manage Shared page" (when you don't have a shared page yet, create a public share through "Create shared page")
Click in the overview table on the name (link) of the Shared Page.
Copy the last part of the URL after "glId". For example: glId=bjXLBXsLajQtEp6emvHoup9qnR1JmQM5f
Now you have the shared code to appear on GliderTracking!